Information about the competition (will gradually be supplemented)
Event Location
Skellefteälven in Skellefteå below Bryggarbacken

Timetable
The official timetable for the day will be published once all entries have been finalised. The competiation starts at 10 AM and the last race is running at about 16 PM.
For detailed information about the heats, visit LiveTiming
Inauguration
The inauguration is on Friday 16/2 at 18.00 at the river below Stadsparken.
Registration
The registration is situated in the City Hall main entrance in Skellefteå, the address is: Trädgårdsgatan 6.
Registration is open as follows:
Friday 16/2 at 16.00 to 17.30
Saturday 17/2 at 8:00 to 11:00
When registering, you will receive a competitor's card that you need to keep with you throughout the race day.
Track
4 x 25 meter-long courses
Timing
Manual timing
Swimming without time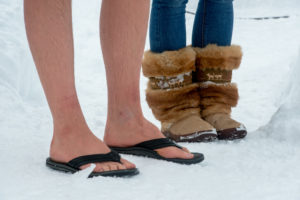 After the competition is the opportunity to swim 25 meters without timing. Participation must also be registered here and paid in advance and the cost is the same as for the contestants.
Results
All results are published on www.vintersim.se
Medals
Anyone who swum get a medal. For racing class there are special medals to the first three in each class.
Security
There are medical staff, divers and lifesavers after the course. Sauna available next to the race site. All participation is at their own risk.
Entrance
For spectators, it is free admission to the competition site but only swimmers, officials and media have access to the ice. To gain access you must have a special pass.
Press accreditation
Media who wish to be on the ice must be accredited. Contact Lars Westerlund, lars.westerlund@westerlunds.com, +4670-693 84 22
Accommodation
Contact Visit Skellefteå.
Food
Skelleftesim sells hamburgers next to the race site and there are several restaurants close to the river.
Hat Contest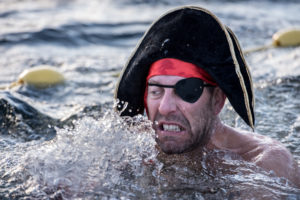 In connection with the Scandinavian Championship in Wintersim 2018 we also arrange a hat competition for swimmers.
The hats / caps will be judged on how creative, imaginative and amusing they are. Moreover, the cap should be functional in the water.
Registration for the hat contest takes place in connection with the registration during the race day where the hat also is photographed. A jury selects the winner. The top three hats are rewarded with a prize.
To be in the contest is free.